by Amy Ephron
from Vogue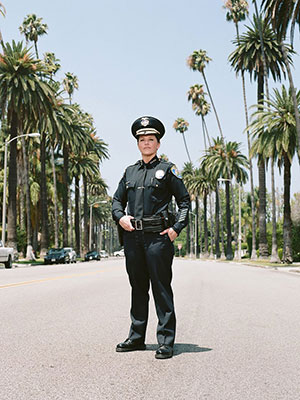 Photographed by Awol Erizku

Her office is big. Hollywood-movie-set big. Dark brown leather couches, lush, surprisingly comfortable. A big desk which might be intimidating to sit on the other side if she hadn't joined me on the couch. Big windows and a lot of room to walk around, which she demonstrates when she stands up, unbuckles her belt, or rather her gun belt, gun solidly holstered inside, and hangs it up in the closet. I didn't know if I'd suddenly gained her trust, or if, as she tells me later, "It was getting uncomfortable." She wears a bulletproof vest underneath her black shirt, four stars on each shoulder, and a white T-shirt underneath. "I always wear my bulletproof vest," she says.
Meet Beverly Hills's new police chief, Sandra Spagnoli. (The g is not silent.) Hired in March after an almost-year-long search to replace her predecessor, who retired under a haze of concerns about a possible conflict of interest, Spagnoli is a 33-year veteran known for her high ethical standards. Though this is her third gig as a police chief—first in Benecia and most recently in San Leandro—she is Beverly Hills's first female top cop, and when I visit her, she hasn't quite settled in.
There's a small Tiffany bag on the side table and, inside, a congratulatory bracelet her family gave her (though she doesn't wear jewelry); a tiny vase of peonies (or geraniums) that have seen better days, on the desk; and numerous small strips of paint swatches on the wall, samples of varying shades of gray and blue, as if the office itself may be about to get a makeover, too.
Read the rest @ Vogue