Bestselling author Amy Ephron is used to telling beautiful tales. But with the recent release of The Castle in the Mist, her new novel for young readers, Ephron has stepped into a fantasy world that reminds us all of the power of child and adolescent imagination. I caught up with Ephron to find out a little more about her fantastic shift and the magical world of Tess and her brother Max.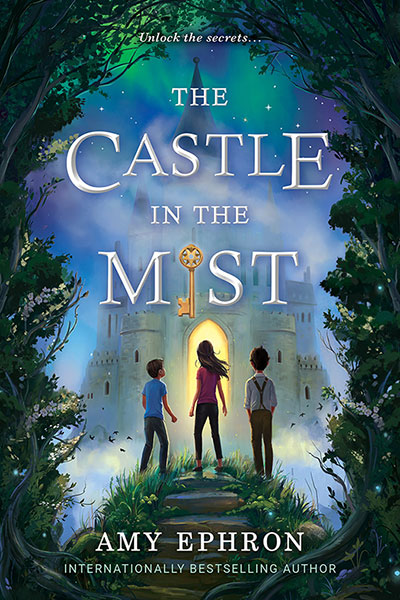 As a successful author of adult-driven books, what inspired you to cross genres and write The Castle in the Mist— your first novel for young readers?
When I was little I thought of books as magical places I could get lost in. I thought Oz was real (I still do.). I thought Mary Poppins was certainly real, if we could only find her and that the Banks children never grew up. I thought the streets they lived on, their houses, their families were all real. I believed that The Secret Garden was possibly a work of non-fiction, I mean based on a real story. I loved Half Magic and A Wrinkle in Time.
And I wanted to try to write a book that I call 'a modern day mash-up of an old-fashioned children's novel,' one that was accessible to modern-day kids but married the real world to magic, and not really knowing whether it was real or sometimes imagined….
I also wanted to write a book that taught kids to believe in themselves, to believe in wishes, but sometimes to be careful what you wish for. And, also, these children are on their own and sometimes, for a minute, running through their heads are tapes, really, of things their parents taught them along the way, amazing guides that you sometimes learn from your parents.
It's also about siblings, and the complications thereof, and ultimately the extraordinary bond. It's about believing in yourself and working together!
There is a magical, page-turning feel to The Castle in the Mist. Did the writing process allow you to revisit those positive, imaginative pieces of childhood that we sometimes forget in our busy adult lives?
Thank you for saying that! Some of the magical action pieces almost wrote themselves, almost took left turns along the way as I was writing. And some things happened that I didn't expect…. I didn't expect when the carousel started to turn that the horses were about to become… (Spoiler Alert: Can't tell the rest of this sentence.) But what happened in the carousel ride surprised me, too. Sometimes that's the magic of writing and letting your own imagination run away with you. Also, one of the messages in the book is to believe in yourself and believe that your wishes can come true. And to believe in magic.
Read the comple interview here: