Ethical Dilemma:

If you find the key to somebody's gate,
does that mean you have the right
to use it?
The Castle in the Mist - Coming February 2017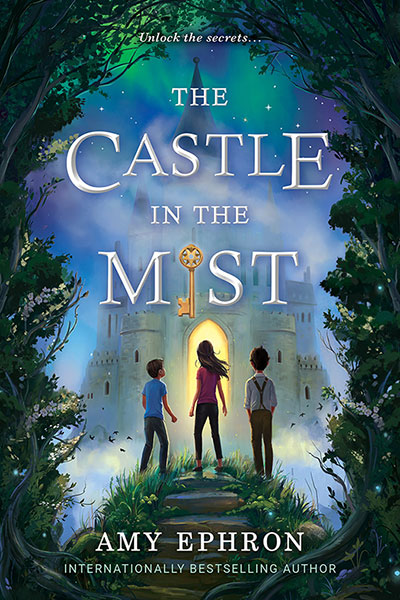 In the tradition of Edward Eager and E.L. Konigsburg, a novel about the excitement—and the dangers—of wishing.
Tess and her brother, Max, are sent for the summer to their aunt's sleepy village in the English countryside, where excitement is as rare as a good wifi signal. So when Tess stumbles upon an old brass key that unlocks an ornately carved gate, attached to a strangely invisible wall, she jumps at the chance for adventure. And the world beyond the gate doesn't disappoint. She finds rose gardens, a maze made of hedges, and a boy named William who is just as lonely as she is.

But at William's castle, strange things begin to happen. Carnival games are paid for in wishes, dreams seem to come alive, and then there's William's eerie warning: Beware of the hawthorn trees. A warning that chills Tess to the bone.

In a magical, fantasy world that blurs the line between reality and imagination, readers are left to wonder exactly what they'd wish for if wishes could come true. Perfect for fans of Half Magic and The Secret Garden—and for anyone who's ever wondered if magic is real.
Praise for The Castle in the Mist:
"Bursting with imagination and warmth, Amy Ephron's first novel for young people is a magical book in all ways."—Holly Goldberg Sloan, New York Times bestselling author of Counting by 7s

"This beautiful story's quiet, peaceful tone nicely evokes both the serenity of country life and the haunting magic of the castle, and the emotional heft of Tess and Max's separation from their parents, as well as their strong bond, keeps the tale firmly grounded in reality. Perfect for middle-graders who love classic fantasy."—Booklist

"Rich description of the castle along with an elaborate map at the book's beginning and an illustration at the end enhance the fantasy world….A sequel is suggested; beguiled readers will hope it happens."—Kirkus Reviews
More Praise for The Castle in the Mist:
This book is about three kids named Tess, Max, and William. Tess and Max are living with their Aunt for the summer. One day Tess is outside walking around and she stumbles upon an old brass key that unlocks an old carved gate. She finds herself in an old castle grounds. Tess and her brother Max become friends with a boy Tess's age named William.
The theme for this book is, Beware of the hawthorn trees. This means that you should pay attention to what people tell you and you should listen to them because people can get hurt if you don't.
Things I liked about this book is that it was very exciting and I never wanted to put it down. It was so good. Other things I liked about this book is it's very adventurous, and it's an amazing book. I didn't have anything I didn't like about it, it was just perfect.
—Maggie Manwill


Amy will be speaking at bookstores, book festivals, and schools starting February 2017
She'd love to see you!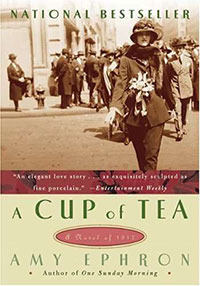 Ephron turns the notion of the good Samaritan on its head in a bauble of a tale about altruism gone horribly wrong.
—Publishers' Weekly

International Bestseller
Rosemary Fell was born into privilege. She has wealth, well–connected friends, and a handsome fiance, Philip Alsop. Finally she has everything she wants.
It is then, in a moment of beneficence, that Rosemary invites Eleanor Smith, a penniless young woman she sees under a streetlamp in the rain, into her home for a cup of tea. While there, Rosemary sees Eleanor exchange an unmistakable look with Philip, and she sends Eleanor on her way. But she cannot undo this chance encounter, and it leads to a tempestuous and all–consuming love triangle –– until the tides of war throw all their lives off balance.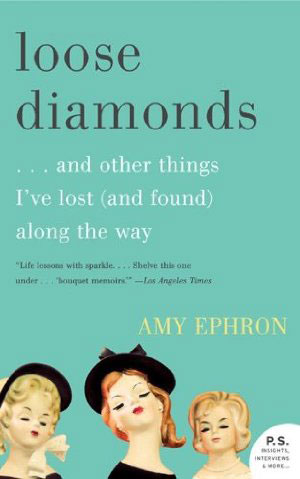 Really happy paperback of "Loose Diamonds" hit LATimes list.
third time (and that's supposed to be the charm....)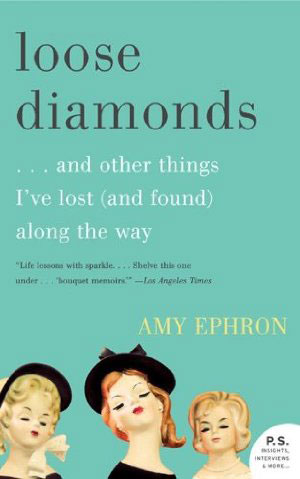 HARPER'S BAZAAR CALLS IT "A MUST READ"
"Her honest approach to her good and not-so-good relationships might be just the thing for anyone feeling sorry about themselves." – Morgan Murrell
DAILY BEAST DUBBED IT
"A HOT READ"
"Whimsical encounters with fascinating characters, from a man who had filled his home with exotic birds to spending an afternoon with infamous murderer Lynette "Squeaky Fromme"... Ephron offers a deeply honest and compelling look at the events that made her the woman she is today."
L.A. TIMES SAYS:
[A] nosegay of life essays whose pronouncs are mostly 'I' and 'we,' but are also by implication 'you' – as in, 'here's my experience of this or that life-changing moment; what's yours?" – Patt Morrison
THE DAILY CALLS IT "A LITTLE GEM"
"She is an expert at introspection as entertainment...the collection masters brevity and range." – Claire Howorth
HELLO GIGGLES CALLS IT "A FUN AND ENGAGING READ."
"The pages turn themselves...Not only do the essays stand up on their own, the overarching themes unravel themselves beautifully." -- Julia Gazdag