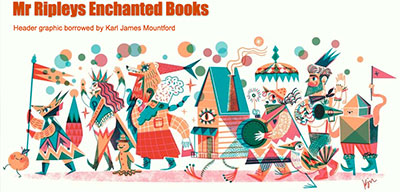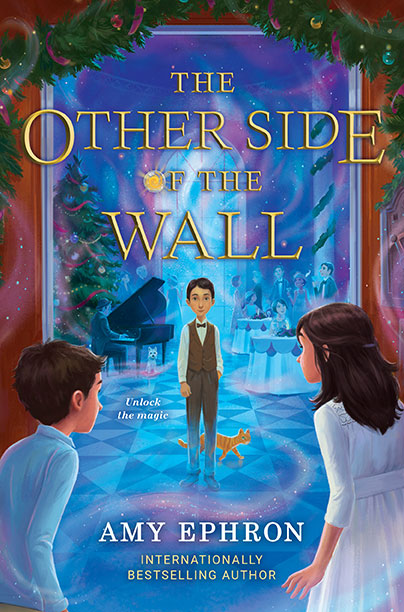 We all love a good book cover and I think this book cover has been illustrated brilliantly by Jennifer Bricking. It captures the story inside particularly well - there is a lovely use of blue and sparkling imagery to set alight the main themes.
The Other Side of the Wall is the third thrilling installment from Amy Ephron that will be published in the US (but can also be bought in the UK) by Philomel Books on October 15, 2019. This story features the brother and sister duo (Tess and Max) undertaking another great adventure.
You only have to open the first page to be nostalgically transported back in time as snow is falling and Christmas is on the horizon. The story is set with Tess and Max staying in London at the posh Sanborn House with their Aunt Evie. The story starts very sedately as the setting takes hold of you like a good old friend and shakes you by the hand. It's a perfect place for an adventure starting with a horse and carriage ride to Hyde Park which sets the wheels precariously in motion. Soon an air of mystery falls, like a shower of little confetti stars, as a mysterious boy named Colin turns up on the scene.
Colin lives at the Sanborn House hotel all year round. He appears to stay on the 8th floor, but Max is sure the elevator only had 7 floors the day before. This sets the brother and sister duo with a mystery and puzzle to solve. It soon comes to light that no one in the hotel can see Colin. However, a curious glass marble that refracts light may just hold the key to the secret.
You will be absorbed in a slightly mild and creepy tale that seems to get stranger and stranger. For example, a visit to a 1920s costume party and shadows that pass through walls. It's a very captivating story that fits in marvelously with the rest of the series.
This is a very entertaining middle-grade read told with bucket fulls of imagination. The plot will captivate and entice you to read more. You'll find yourself moving between the present and the past which all makes for an entertaining ride for everyone. This is a good old classic family adventure that you will want to both read and own. Don't hesitate to pick up a copy and engage in a really great story.