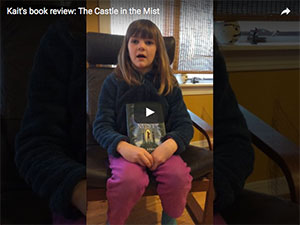 See Kait (age 9) give a Q&A style book review. Find out what she likes about it and who she thinks should read this book
And a note from Kait's mom, Christine Gordon Manley:
I really enjoyed the vocabulary Amy used throughout. It gave Kait an excellent opportunity to sound out words and practice learning new ones by association. It is a mystery, and the chapter cliff hangers, which many parents sometimes cringe at, had Kait begging for "one more chapter" for the night. This was the first book that I would deem "spooky" that Kait read, and Amy does a great job balancing that with other, light-hearted moments.