Best-selling author Amy Ephron has always been a magical storyteller. These days, she is using her writing ways to fuel the imaginations of young readers. In the recently released Carnival Magic, the world is invited to join the continued adventures of Tess and Max where all things seem possible.
Parade caught up with Ephron to find out more about how characters Tess and Max are teaching children and their parents about the power of thoughtful decision-making, loyalty and self-confidence. Life lessons and carnival rides? Sounds like the perfect beach read for all ages.
The Castle in the Mist was your first novel for young readers. What was it about that writing experience that made you tackle the genre again in Carnival Magic?
Carnival Magic is a companion book to The Castle in the Mist, and I sort of loved the idea of it being the second summer. This time they were visiting Aunt Evie by the seashore in Devon, there was a beach, other children around, WiFi, a zoo—and nothing whatsoever could happen to them—and then a carnival comes to town and literally picks up stakes and runs away with them. Or are they in another dimension, have they time-travelled? And then I started pushing the envelope to the possibility of what lay on the other side of the carnival's house of mirrors. There's another carnival there—the ghost carnival, if you will, and what might be, maybe, an alternate universe. Unless, it's just Tess' imagination running away with her again.
For me as a writer, stories pick you, you don't necessarily pick them. And Tess and Max weren't done having adventures. They're still not. Stay tuned.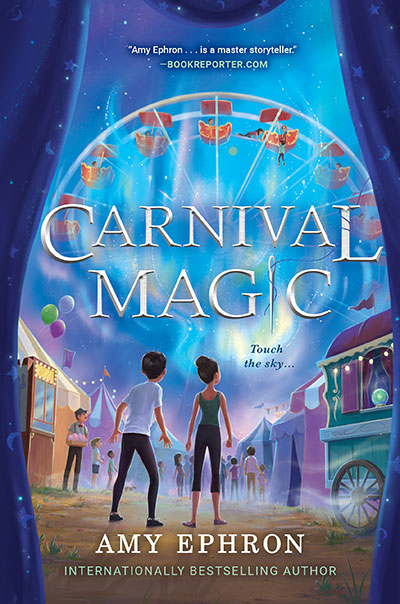 Carnival Magic revolves around one of my favorite childhood events—the carnival. Was that something you fondly remember from your own childhood?
I had a close friend whose father was the strongman at a travelling carnival, and her stories always fascinated me. The life fascinated me, the wandering aspect and at the same the communal aspect that forms between the entertainers who seem to, in a way—except for the carnival owner, of course—all take care of each other. There was also a Labor Day carnival that I always took my kids to when they were little, and I always wanted to be behind the scenes at a carnival. I always wondered what happened when the carnival gates closed.
What do you hope readers will take away from the latest adventures of Tess and Max?
Tess, for me, is an old-fashioned heroine. She's brave, impulsive, fearless. She sometimes jumps without thinking and then has to figure it out. Max, her brother, is more mathematical, more cautious (sometimes), and they have each other's backs in a way that we all have to these days! They also run tapes in their heads when they're lost and alone of things their parents taught, lessons they've learned along the way, so that when they're faced with a difficult choice, they can make a careful, considered and hopefully excellent decision that leads to a precarious but successful outcome.
The real lesson is: Believe in yourself. The hashtag for Carnival Magic is #touchthesky, which means that you can do anything you put your mind to. A lot of the kids I've met on school tours have been so awesome and amazing and fearless themselves in their convictions that I've been inspired by them.
Carnival Magic is a novel for young readers, but I suspect parents are going to jump along for the ride. Was that your intention?
Yes. We joke that it's for readers 8 to 80. The books are about sibling relationships and healing sorrows and sometimes believing in magic, so they're also excellent to read with a kid, alongside them or in conjunction with them. We're living in somewhat difficult times and they're meant as an escape, an imagined reality, that somehow becomes whole again.
Your dear friend, actress and SNL alum Laraine Newman, recorded the audio for the book. How exciting was it to hear your story come to life?
I was totally thrilled—totally used on purpose as we're both from L.A.—when Listening Library wanted Laraine Newman to voice the books. First, how great to have a female narrator. The books are third-person omniscient, told by a narrator who can sort of see into some of the characters' heads. And that narrator sort of has my voice. But Laraine voiced all the characters, from the amazing Baranova twins, the aerial ballet stars and their sister, to Tara, the psychic, to Aunt Evie, to the kids, to the mean carnival owner who is Italian and it was truly like listening to a one-woman show.
She also is completely brilliant at setting the scene of the altered reality in both The Castle in the Mist and Carnival Magic so that the fear seems palpable and quietly frightening, exactly as the tone should be. It was truly amazing, but we're also good friends, so she sort of knows the way the narrator speaks, as the narrator sounds a bit like me, but she's also a brilliant mimic and sketch artist. She also sometimes knows intuitively how I think or draw a character, and it was almost like getting a gift!
What's your personal favorite carnival ride? Carnival food?
Honestly, this is going to disappoint you. Laraine Newman's is cotton candy, so she wins the prize. Mine is barbecued turkey legs. I know, but they're seriously delicious. This carnival, though, is in England and turkey legs aren't on the grill. There are sausages and meat pies, and one morning the carnival staff is treated to polenta pancakes and homemade honey. If anyone has a recipe for polenta pancakes, please send it my way.
I know it's a little bit early to ask, but do you have any further adventures lined up for Tess and Max?
Shh. There's going to be a third [book]. And it's scheduled to come out in the fall of 2019. It's called The Other Side of the Wall. It's holiday break, and Tess and Max meet Aunt Evie at a boutique hotel in London the week before Christmas, [a hotel] that may very possibly be haunted. Tess and Max's parents are supposed to join them, but their plane is delayed. Tess sees a little boy in the tearoom, having tea all by himself, just a few years younger than they are. But apparently no one else can see him. Or can Max actually see him, too? If I say anything more, it might need a spoiler alert, but I have a feeling the hotel might have been a private house once and the hotel might indeed be haunted.