Reading Amy Ephron's new novel Carnival Magic feels like stepping into a different literary landscape entirely. Gone are the themes of extreme fantasy or acute realism that polarize YA novels in 2018, and in their place is a much softer, otherworldly take on childhood mystery, reminiscent of classics such as The Secret Garden or A Little Princess.
That last title, coincidentally, might not exist in its now-classic movie form if not for Amy, a prolific writer who executive produced the 1995 film version of Frances Hodgson Burnett's story and helped pen the script. These children's stories inspired Amy's newest series, which so far includes The Castle in the Mist and its standalone sequel, Carnival Magic, which was released by Penguin's Philomel Books on May 1.
Carnival Magic continues the story of siblings Tess, who is heading into 6th grade, and Max, a year younger, who live in the United States but frequently jaunt to England to stay with their aunt and have mystical adventures. In the book, the two end up time-traveling with an old-school carnival and have to figure out how to get home. Tess and Max get up to a whole host of exciting mischief, with the fearless Tess even getting to transform into a trapeze performer.
"For me, [these books] are kind of modern-day mashups of an old-fashioned children's book," Amy tells Teen Vogue. "There've been a lot of books that deal with real-life problems or really dystopian fantasies." While both Carnival Magic and The Castle in the Mist have sometimes perilous situations (and Carnival Magic does have a clear antagonist), there isn't that same sense of existential fear. The antagonist in the book, "he's not trying to kill them," Amy says. You won't find any dangerous weapons in the novel, and that's intentional. "I really felt that in the world that we're dealing with right now we've got a lot of antagonistic behavior going on."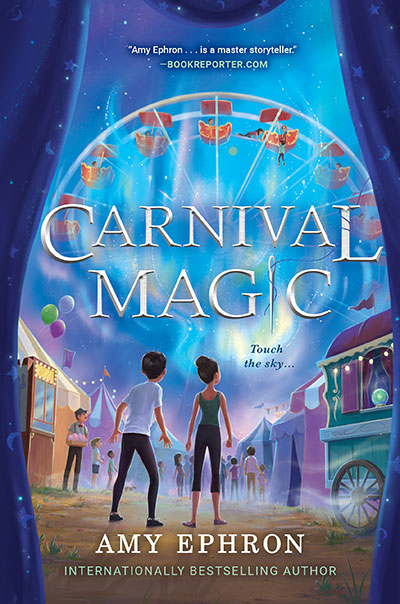 In short, just like Mary retreats into the sanctuary and mystery of the secret garden, or Sara Crewe escapes into an imaginary world to deal with the loss of her father, Carnival Magic is in itself an escape, and a vital one, for young readers especially in this current political climate. Meanwhile, Tess especially follows in that lineage of strong, intelligent female characters — a sort of Lucy Pevensie/Hermione Granger hybrid who is a leader, who believes in magic, who is self-possessed and yet knows her limitations and how to problem solve around them. "She doesn't lose her head when something happens, and she just has a creative attitude," Amy says. "She's a strong personality, and I hope she's a heroine."
Now is the time to dig into The Castle in the Mist and Carnival Magic, because Amy is already cooking up a third book in the series, titled The Other Side of the Wall, which will follow Tess and Max's holiday adventures in London. The new book is tentatively slated for 2019, while Carnival Magic is available now for your reading pleasure.