Amy Ephron's CARNIVAL MAGIC, following siblings from Ephron's THE CASTLE IN THE MIST, as they embark on their second magical adventure, this time in Devon, England where a roadside carnival runs away with them!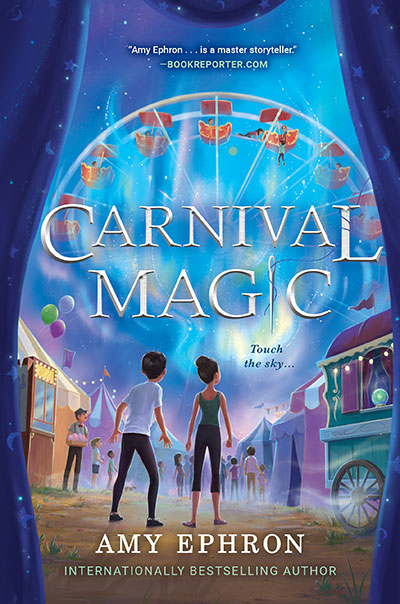 Hey it's Amy Ephron and I'm very happy to share a secret. Carnival Magic—the companion book to The Castle in the Mist—is being published by Philomel Books on May 1st, 2018. I wish I could say that things were going to run smoothly for them but I'm afraid Tess and Max are up for a really wild ride.
It's summer again. Aunt Evie has rented a cottage in Devon-by-the-Sea. Tess and Max are going to stay with her while their parents go on a mini vacation to Barcelona. There's a beach in Devon and wi-fi, a high-def flat-screen TV, lots of other children around, so they can't get into any trouble at all, certainly not the way they did last time in The Castle in the Mist. There's even a zoo and Tess certainly isn't going to interact with a baby tiger who has something sharp stuck in her paw, which might be, as Tess discovers when she removes it, a silver needle with magical powers of its own …
But then a carnival comes to town. Aunt Evie drops them for an hour on their own … At Tess's insistence, she and Max visit Tara, the psychic at the carnival, who hypnotizes Tess. And somehow, I'm not actually sure how (or if Max had anything to do with it while he was playing with those levers and pulleys), while Tess was hypnotized, the carnival picks up stakes and runs away with them in it …
They make friends with The Amazing Baranovas, famous aerial ballet twins, who are just a year older than Tess, and whose older sister has been surreptitiously rented out to another carnival … but that's not the only mystery.
Are they still in England or are they partway to an alternate universe and the only way out it seems, may be Carnival Magic.